Commercial Power Washing Services
When you own a business, especially one that customers frequently visit, it's important to keep your building and grounds clean and maintained. That can be difficult to do on your own. Not only is it a lot of work, but your staff may not have the expertise required to do what is required. That's why it can make sense to hire a commercial power washing service. Power Clean Surface Cleaning Solutions is a family owned and operated company serving customers in the Richmond, IN area. We offer power washing for driveways, buildings, decks and patios and a number of other structures. Our goal is to do the job right while providing excellent customer service.
Having commercial power washing done will bring you a number of benefits. Doing regular concrete cleaning will help care for and maintain your investment. Power washing also will eliminate dirt and grime, prevent mold growth and help to reveal the beauty of your business. And hiring Power Clean Surface Cleaning Solutions will save you time and energy.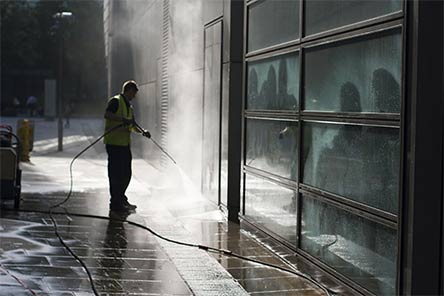 There's no need to worry about safety or professionalism when hiring Power Clean Surface Cleaning Solutions for your commercial power washing needs. We employ only professional cleaning technicians, and our equipment and cleaning solutions are safe enough to be used on playground equipment.
If you need concrete cleaning in the Indianapolis area, call the experts at Power Clean Surface Cleaning Solutions. We clean sidewalks, driveways, decks and patios and even playground equipment, and our family owned and operated company will provide you with excellent customer service